You can't be in two places at once. Unless you have a Babylon robot body-double.
You can't be in two places at once. Unless you're our Senior Research Scientist Yura Perov and his Yura-Bot.
Last week members of Babylon's research team presented at Standford's Symposium on Frontier of Artificial Intelligence-Assisted Care. For one Babylonian their attendance was, shall we say, a tad unconventional.
We're all about using technology in weird and wonderful ways here at Babylon. So when one of our fellow Babylonians couldn't attend the conference in-person we got creative in the only way we know how - insert the robot body-double.
Want to know exactly what it's like to be turned into a human-robot hybrid? Read Yura's first hand account below.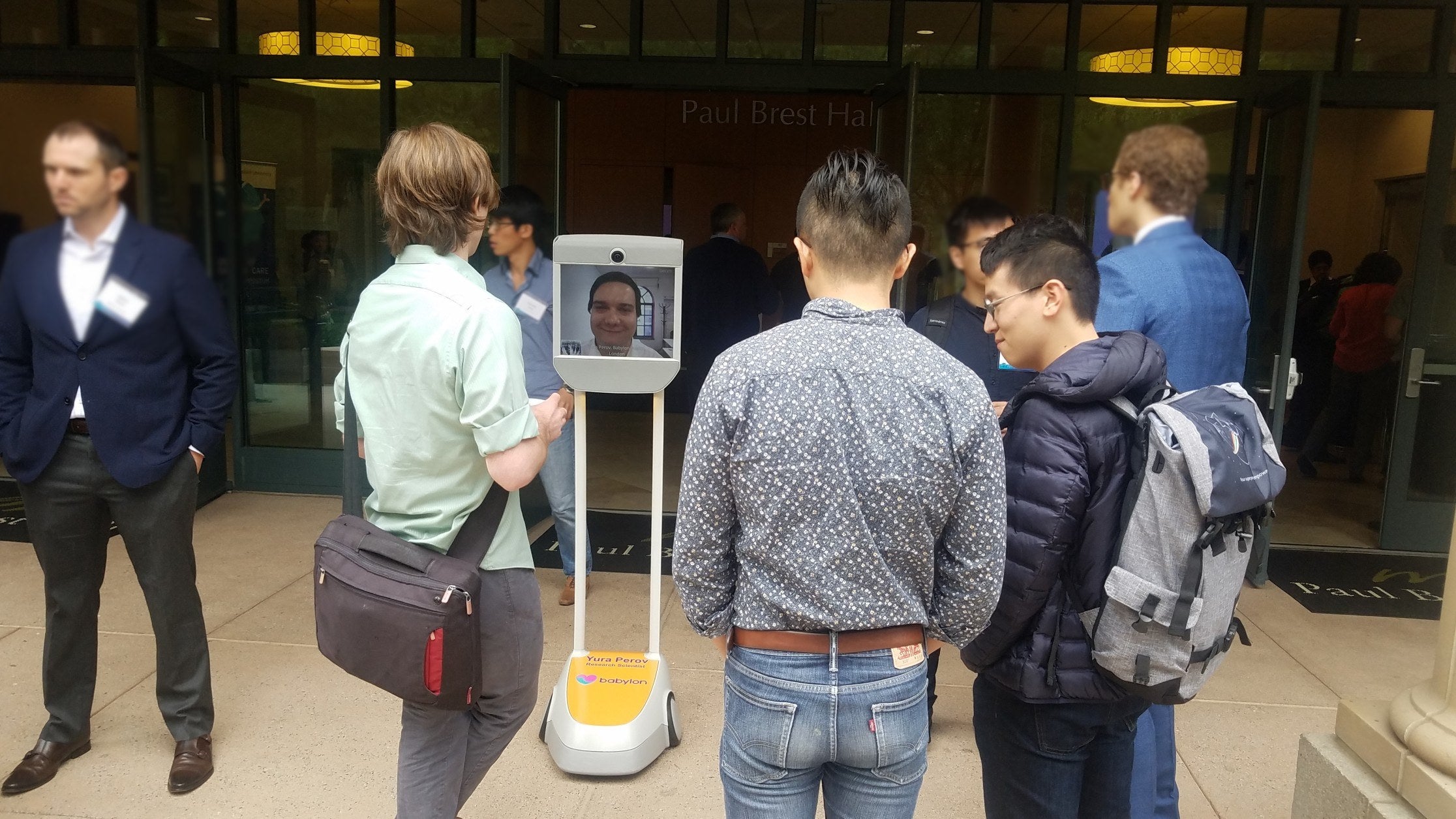 Last week I had a privilege to participate in and present our work at the Symposium on the Frontier of AI-assisted Care at Stanford University.
My participation was quite unusual. I was there, in California, with my brain and soul, but my body was more than 5,000 thousand miles away, in London. That is, I did a telepresence as a robot. I could move, by driving the robot, I could listen to presentations, I could meet and talk with other participants, as well as look at the posters and communicate with their authors, and, moreover, co-present our own poster.
All of that was possible thanks to Babylon Health a lot, the company where I have been having a privilege to work for almost 3 years as a Research Scientist, and in particular thanks to our CEO and Founder, Ali Parsa, and to my boss, Chief Scientist, Saurabh Johri. I have been calling my job my dream job for all this time because I love what I do every day. I do feel that we make a difference by achieving important milestones and continue successfully working on our mission of providing affordable and accessible healthcare to everyone on our planet. I am so grateful that I had found this job on StackOverflow 3 years ago.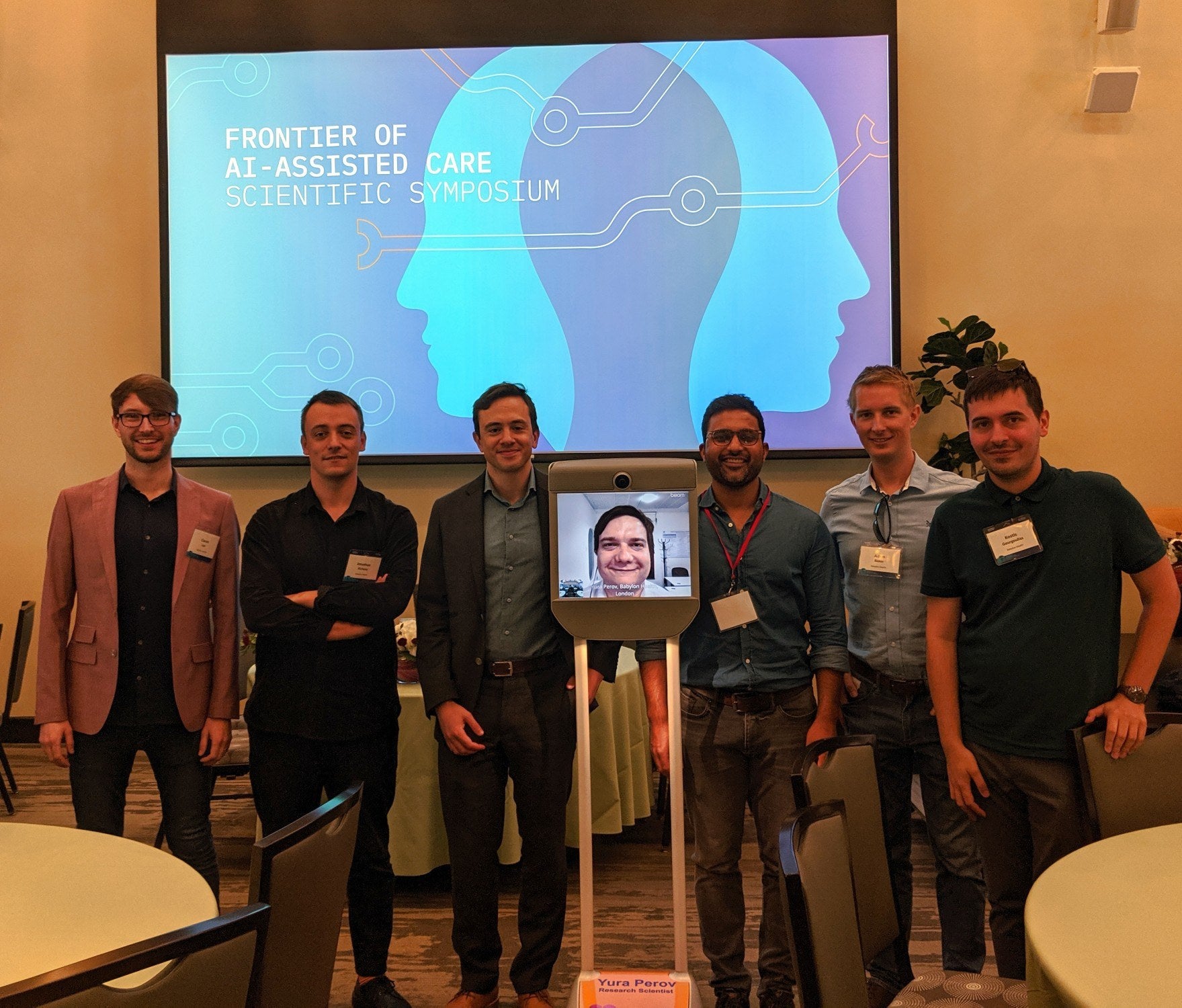 Photo with my colleagues (left to right): Ciarán M. Lee, Jonathan Richens, Albert Buchard, Saurabh Johri, Adam Baker, Kostis Gourgoulias.
I could not attend the Symposium in person because my US visa has not been processed on time, but Babylon Health has very kindly agreed to pay for my telepresence at Stanford. That allowed me, despite the visa delay, to fully engage in the Symposium as if I were there. Thanks to company Event Presence and its CEO Steve Ernst, who helped all the way long and made the telepresence possible in California with a BeamPro robot.
The Symposium touched all important points of AI-assisted healthcare. The works presented there included important applications of deep learning and reinforcement learning, generative modelling and inference approaches, and chatbots. Important topics that were discussed and presented included the interpretability of AI approaches, as well as ways to minimise or avoid bias altogether, and allow the robust reproducibility of AI results.
We also had a chance to present our work, including our comparative study of artificial intelligence and human doctors for the purpose of triage and diagnosis (see https://arxiv.org/abs/1806.10698 for more details).
All in all, it was really great participating in the Symposium. I learnt a lot, met interesting people, and had a chance to share and discuss our work as well.
If you are curious, this is how driving the robot looks like (such that you can be fully mobile):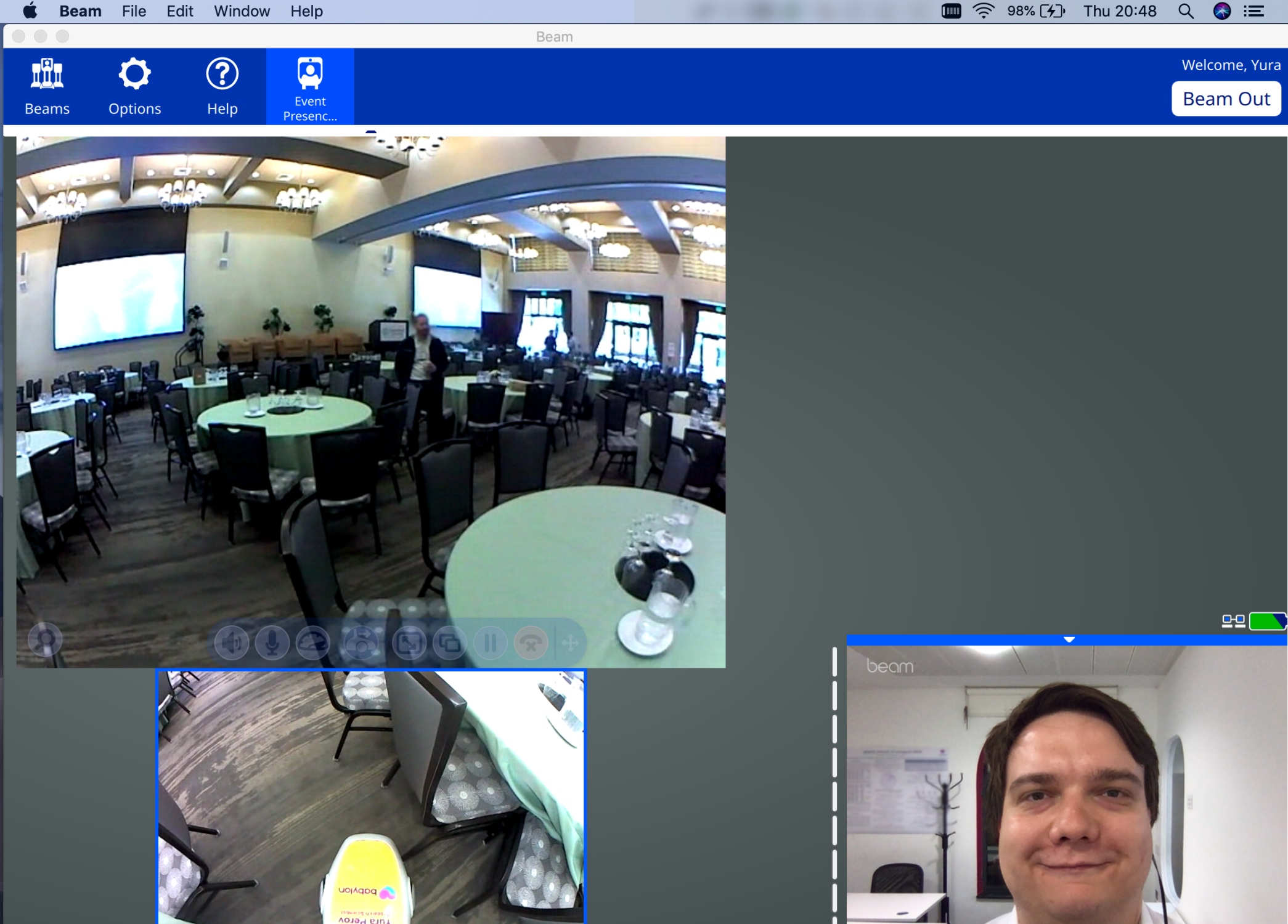 Note that the front image has been enhanced to account for the photograph being taken outside of a building, with a lot of Californian sun
This blog originally appeared on Yura Perov's LinkedIn page, see here
---
The information provided is for educational purposes only and is not intended to be a substitute for professional medical advice, diagnosis, or treatment. Seek the advice of a doctor with any questions you may have regarding a medical condition. Never delay seeking or disregard professional medical advice because of something you have read here.
---