Babylon members are now more empowered than ever before to take control of their own health. We're committed to giving our members the tools and information they need to fully engage in their own care. We recently made three key product improvements that enable our members to get healthy and stay healthy, all from devices they already own.
1. Enabling preventative care through proactive member alerts and early clinical interventions for out-of-bounds blood pressure readings
Members can now receive smart detection notifications when their blood pressure is out of range through our app's MyHealth function. MyHealth gives members a view of their health performance over time by tracking metrics like blood pressure and weight. Most notably, this enhancement empowers users to stay informed about their health in real-time.
By notifying our members early about health-related data points, we can proactively address potential health issues. Ultimately, this smart detection feature will help us reduce the cost of care delivery while enhancing the overall well-being of our users.
Depending on the blood pressure reading entered, users will receive color-coded alerts: red for critical values, amber for cautionary levels, and green for normal ranges. Red alerts prompt immediate assistance from a live agent chat to book an appointment, amber alerts direct users to a virtual bot for guidance, and green alerts signify no intervention is needed.
2. Highlighting the most important health information for each member in our app
Babylon members now have a clearer view of their important health information in the Babylon app. This summer, we revamped the information hierarchy on our app's metric detail screens. The most critical and useful information now takes center stage, with each user's "hero number" or personal health score prominently displayed at the top of the screen. Additionally, we introduced a color-coded RAG (Red, Amber, Green) status indication, providing users with immediate visual cues on their health status. This allows users to quickly assess if there are any concerns and take timely action through the "message our care team" button if needed.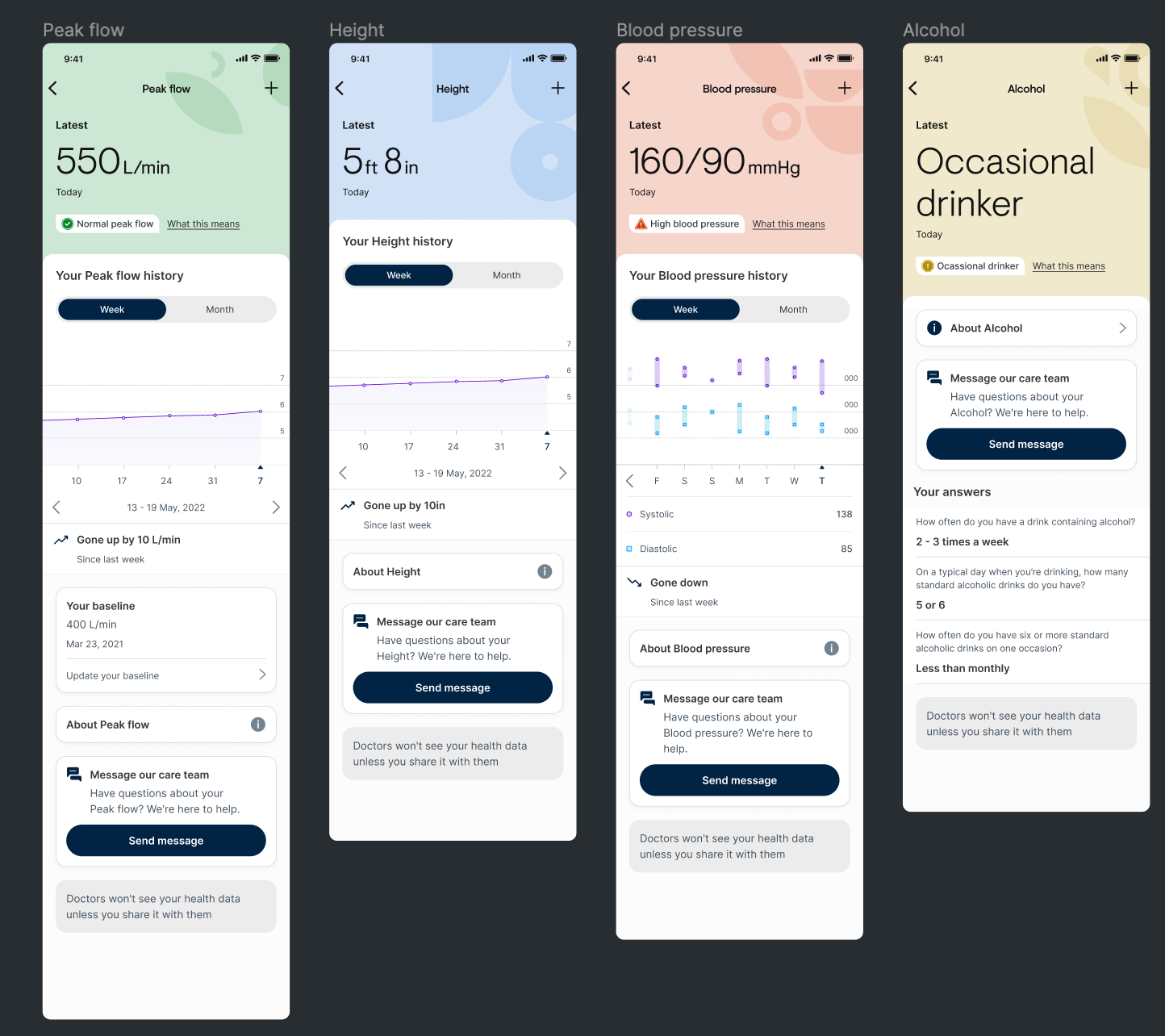 Furthermore, this release brings notable improvements to the graphs within the app's My Health section. Users can now easily identify the relevant time span below each graph component, gaining a better understanding of their health trends and progress. With this enhanced presentation, users can readily grasp the most critical insights and make informed decisions about their well-being.
3. Enabling 83% faster chat experiences for our members with multi-chat
About 90% of customers consider a quick reaction from support to their inquiry to be very important. Babylon member agents are now answering more member chats, faster than ever before, providing a superior member experience. A single chat agent is now able to concurrently chat with multiple members through our app, without impacting agent response and interaction timings. We've also added the ability for patients and agents to securely send attachments like photos and documents.
Let's compare before and after:
Chat answer rate: 18% improvement
Member wait time: Median member wait time is now 21 seconds, an 83% improvement
Agent interaction time: no impact, indicating that handling multiple chats at the same time is not increasing agent response times or the length of each conversation
| | | |
| --- | --- | --- |
| | After multi-chat | Before multi-chat |
| Chat answer rate | 84.5% | 66.5% |
| Wait time (median) | 0.35 minutes | 2.1 minutes |
| Agent interaction time (median) | 7.5 minutes | 7.5 minutes |
At Babylon, we know that by giving our members the tools and information they need to stay informed about their health, we can help them make better decisions about their care and ultimately live healthier lives. The recent product improvements we have made, such as smart detection alerts for blood pressure and improved information hierarchy in each member's app profile, are just a few examples of how we are working to achieve this goal.